Sometimes the insanity of motherhood, wifedom, (yes I made that up) and life in general warrants a time out. I have a hard time forcing myself to take a time out most days, and I am POSITIVE I'm not the only one out there like this.
I have found, (on the recommendation from a good friend,) the most amazing way to take a Mommy Time Out at the end of the night.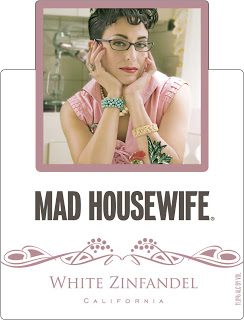 It's called
Mad Housewife Wine
Lets discuss the reasons I am mildly obsessed with this stuff.
First of all, check out the name. Is it not perfectly adorable?
That fun vintage style label. It had me at hello.
The budget friendly price. At about 6 bucks a pop, you don't have to feel guilty treating yourself which is something I'm always struggling with.
The Taste! This stuff is so yummy; it's white zinfandel is slightly sweet with hints of watermelon and strawberry. Even people who aren't big wine fans should defiantly give it a shot.
It's easy to find. I got mine at Kroger but their site lists tons of places local to most people. You should also add either their blog or Facebook Page because they do events all over the U.S. There was a bottle signing at the Kroger near my house a month or so back.
The kitchy cork with its cute stamp. Here's one of mine: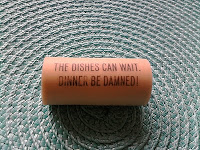 So. Get thee to the nearest retailer and stock up for the weekend. Maybe you can make up some of my
Mint Chocolate Cake Balls
and find some time for yourself once everyone has gone to bed.
*Note. No, I was not asked to do this by Mad Housewife Wines. No, this is not a paid endorsement. I just love this stuff so damn much, that I contacted them for permission to blog about it and share it with you guys.*