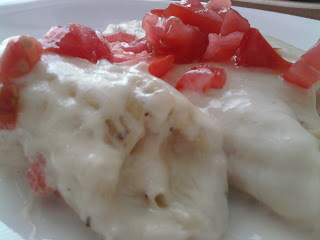 *For a laugh: Please go ahead and picture me stuffing raw chicken into uncooked manicotti shells. This is true love people, wearing gloves, stuffing dead animal that you aren't even going to eat into tubes of pasta, all to give your husband a happy belly.
Ingredients:
1 (16oz) jar of your favorite Alfredo sauce
1 1/2 cups water
1 tsp garlic powder
1 pkg uncooked chicken breast tenders
1 tsp Italian seasoning
14 uncooked manicotti shells
2 cups shredded mozzarella cheese
1 large tomato, chopped
1/3 cup basil pesto, chopped (optional)
Directions:
1. Heat oven to 375 degrees. In a medium bowl, mix pasta sauce, water and garlic powder. In ungreased 13x9 in glass baking dish, spread about one cup of the pasta sauce mixture.
2. Sprinkle chicken with Italian seasoning. Stuff chicken into uncooked pasta shells. Place shells on sauce in baking dish. Pour remaining sauce over shells, covering completely.
3. Cover with foil. Bake 45 to 50 minutes or until shells are tender. Sprinkle with cheese and bake uncovered until cheese it melted (about another 4 minutes.) Sprinkle with tomato and serve with pesto.
(adapted via Pillsbury)