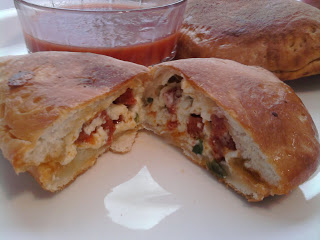 Ingredients:
1 lb frozen bread dough, thawed OR one roll refrigerated pizza dough
4 oz cream cheese, softened
4 oz mozzarella cheese
1/4 cup green onions, chopped
2 cloves minced garlic
1/4 tsp dried thyme
1/4/ cup olive oil
Your favorite pizza toppings
Marinara or Pizza sauce
Directions:
1. Preheat oven to 450 degrees and grease a baking sheet or prep a pizza stone. Separate dough into 4 equal pieces and set aside.
2. Combine cream cheese and mozzarella in a medium bowl, stirring with fork until combined. Add green onions, garlic and thyme and stir again.
3. Roll out dough into 6 inch circles. Spread each with cream cheese and add toppings. Fold dough over filling. Seal edges using a fork and place calzones on baking sheet. Brush tops with some oil. Bake for 10 minutes, brush with remaining oil and bake another 10 minutes or until browned.
4. Serve with marinara for dipping. Gobble and enjoy.