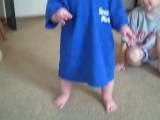 Nathan has figured out how to get those feet moving.
This is from yesterday morning which is why the boys are both still in sleep shirts. He is 10 months old now and learning at a much fast pace than Jackson did. I think it's becuase he wants to keep up!
The first steps he actually took were towards his big brother.
It melted my heart.
I hope they always stay that close.