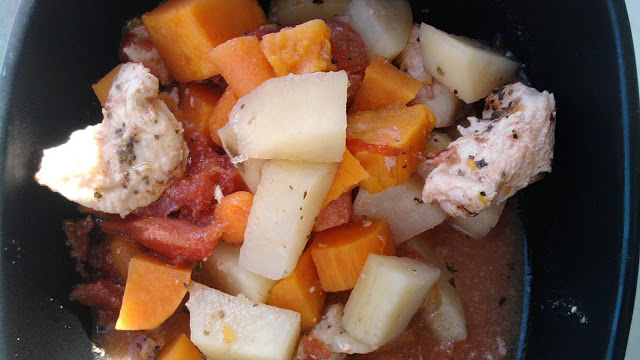 Chicken and Sweet Potato Stew
I removed some of the juices for the photo to show you all the elements of this fall dish. I was unsure if my husband would like this but it was a hit. He's a huge fan of sweet potatoes.
Ingredients:
3-4 boneless, skinless chicken breasts, cut into bite sized pieces
2 medium sweet potatoes, peeled and cubed
2 medium Yukon Gold potatoes, peeled and cubed
2 medium carrots, peeled and cut into 1/2 slices
1 (28oz) can stewed tomatoes
1 tsp salt
1 tsp paprika
1 tsp celery seeds
1/2 tsp black pepper
1/8 tsp ground cinnamon
1/8 tsp ground nutmeg
1 cup chicken broth (more if you prefer it "soupier")
1/4 cup fresh basil, chopped
Directions:
1. Combine all ingredients, except for basil in slow cooker.
2. Cover and cook on low 6-8 hr or high 4-5 hrs
3. Top with basil before serving.
(via Rival Slow Cooker Cookbook)
Note: Bill loves cheese on everything. We decided that a smoky provolone would be good with the sweet spices in this. Try it if you so desire =)
I'm Linking to these Parties =)