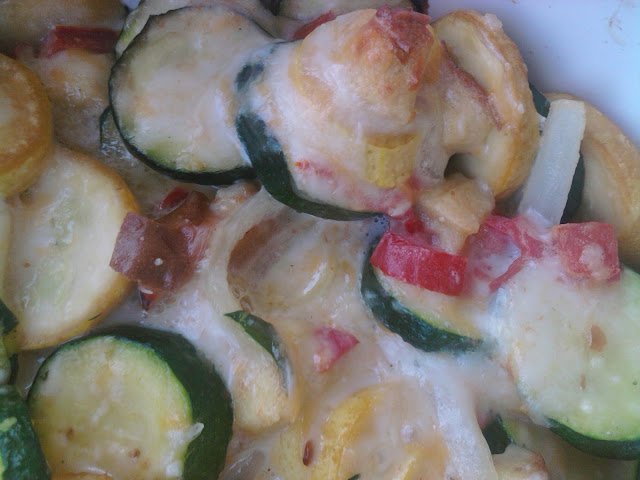 I adapted this a bit for my own tastes. A strata is typically more "Eggy" than not, however, I cut the eggs in half when I made it. I was afraid if I didn't it would give me the willies and I wouldn't be able to enjoy it. I'm a nerdy vegetarian.
Ingredients:
2-3 zucchini
2-3 yellow squash
1/2 medium onion, sliced
1 diced tomato
4 eggs (or 2 if you don't want it too eggy)
2 cups shredded cheddar cheese
2 sliced of bread, cut into 1 inch cubes
2 tablespoons vegetable oil
1/2 tsp salt
1/4 tsp red pepper flakes
Directions:
1. Preheat oven to 350 degrees and grease a medium baking dish. In a skillet, heat oil over medium heat and saute squash, zuchinni and onion until tender-crisp.
2. Beat eggs in a medium bowl with a fork. Add vegetables, cheddar cheese, bread, tomato, salt and pepper flakes to beaten eggs. Stir well.
3. Pour vegetable mixture into baking dish. Bake until set, which should be about 30 minutes.