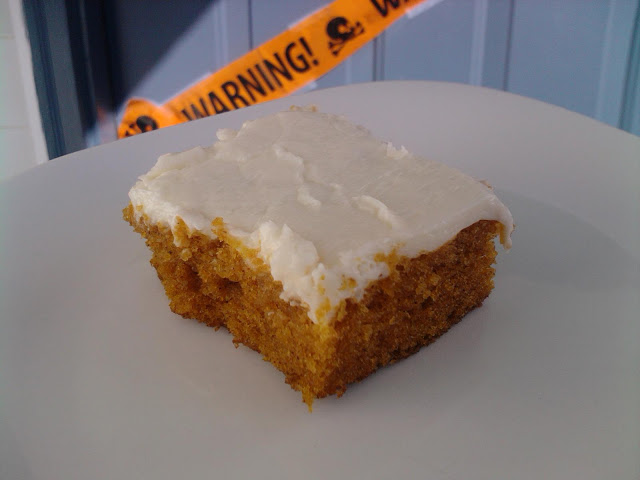 (Pumpkin Bars)
This is a recipe I received in the recipe swap I put together this summer. If you are a new follower, then you missed out! Everyone who participated sent one main dish and one dessert recipe to each person in the groups I organized. It was fun to check the mail every morning!
This is a recipe I got from Amy at
The Snell Family
who was in my swap group. There are out of this world! Super moist and tasty. I don't have a jelly roll pan so I used a cookie sheet and they may have come out a little thinker than hers but oh my gosh, they are to die for. Bill had one in his hand every time I turned around and I found several suspicious fingerprints in the frosting that indicated Jack approved as well.
You should visit Amy's blog and say hi. Then you should run to the store and get whatever your kitchen is missin' and get to making these.
Bar
4 eggs
1 cup vegetable oil
2 cups flour
1 tsp baking soda
1/2 teaspoon salt
2 cups sugar
2 cups canned pumpkin
2 teaspoons cinnamon
2 teaspoons baking powder
Frosting
1 cup butter
1 8oz package cream cheese, softened
1 teaspoon vanilla
1 pound powdered sugar
Directions:
1. Preheat oven to 350 degrees.
2. Mix all ingredients together (I did this by hand, ) and pour into a greased and floured jelly roll pan. (Since I used a cookie sheet, I just lined it with parchment paper. It worked out nice because I just lifted it out of the pan when I was finished. )
3. Bake at 350 degrees for 25-30 minutes, remove from oven and cool.
4. Prepare frosting by mixing all ingredients together with mixer on low speed. Spread frosting on cooled bars.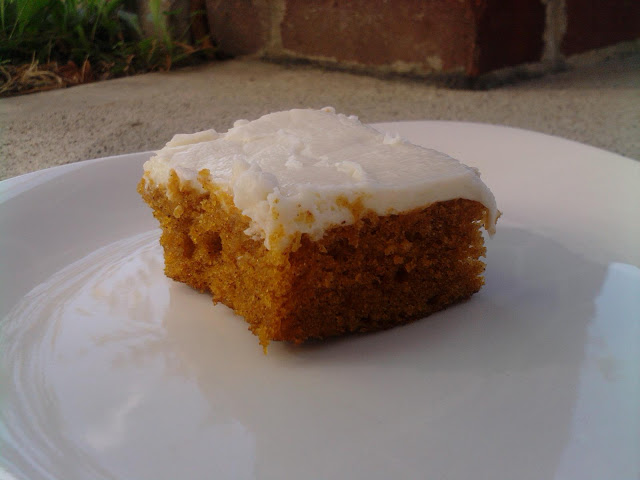 Im linking these here =)