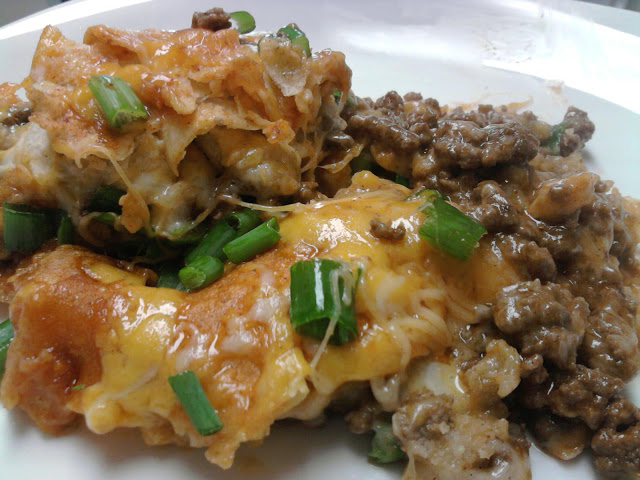 Beef Enchilada Casserole
I make 2 versions of this. One with beef for my husband and one that subs black beans for myself, the Veggiesaurus.
Ingredients:
1 lb ground beef
1 16 oz can pinto beans (optional)
1 pkg taco seasoning mix
6 (6in) corn tortillas
3 cups shredded Monterey Jack cheese, divided
1 medium red onion, chopped
1 can enchilada sauce
2 green onions
.....and if you like heat (like us!) you can add the following
1 can chopped green chilies
1/2 tsp cumin
1/2 tsp cayenne pepper
Directions:
1. Preheat oven to 350 degrees. Cook beef until browned over medium high heat. Drain add taco seasoning, cumin and cayenne, stirring well.
2. Grease an 8 in round casserole dish. Arrange half of corn tortillas over bottom. Layer with beef, chilies, 2 cups cheese and onion.
3. Arrange remaining tortillas over onion. Pour enchilada sauce over top. Bake until tortillas are soft and juices bubble, about 30-35 minutes.
4. Sprinkle remaining cheese over tortillas. Bake until cheese is bubbly, about 10 minutes. Top with green onions.