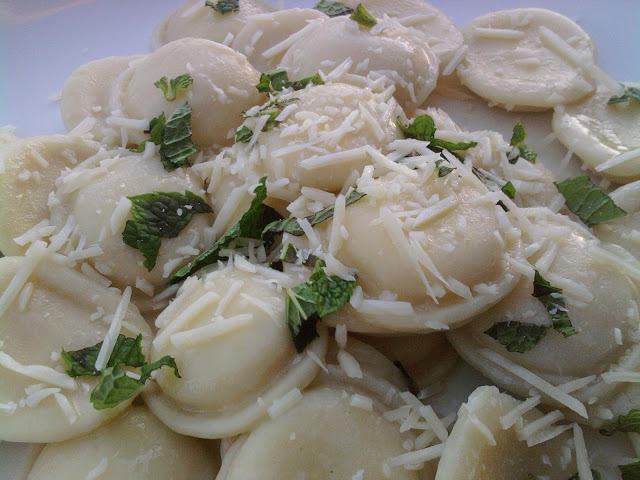 (Lemon Mint Ravioli)
This is probably the easiest dish you'll ever make! It's super flavorful and fresh. You can make this with spinach or cheese ravioli (I prefer cheese.)
I wrote this on a receipt in the middle of the night while watching the Food Network while I was pregnant with my first. I couldn't tell you what Chef prepared it, or on what show. All I can tell you is that it is fabulous!
Ingredients:
2-3 Tablespoons butter (not margarine)
Juice of 2-3 lemons
Fresh mint, chopped
Refrigerated or Frozen ravioli
Fresh grated Parmesan cheese
(Note: You can adjust the butter, lemon and mint to your taste. Play with it a bit to get it to your liking.)
Directions:
1. Boil water and prepare your ravioli according to package directions.
2. In a saucepan, bring butter and lemon juice to a boil. Add ravioli, warm and toss to coat.
3. Plate ravioli, sprinkle with mint and Parmesan.