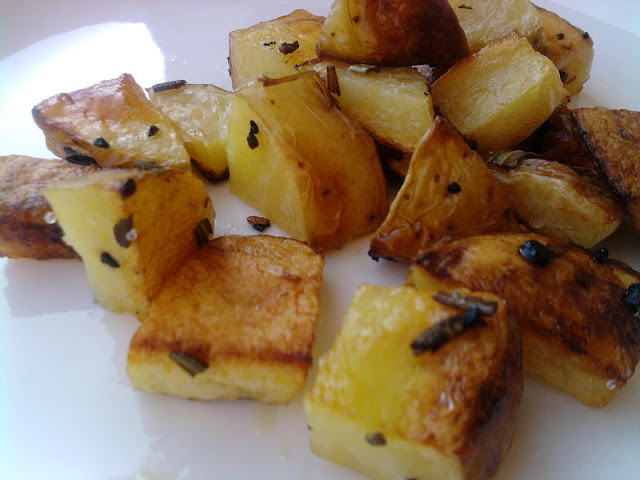 (Roasted Potatoes With Garlic & Rosemary)
These are so flavorful! I served these with a chicken dish I'll show you later =)
Ingredients:
2 lbs. Yukon gold or red skinned potatoes, unpeeled
1/4 cup olive oil
4/5 cloves of garlic, chopped
1 tablespoon fresh rosemary, chopped
Coarse sea salt
Fresh ground black pepper
Directions:
1. Preheat oven to 450 degrees. Cut potatoes into large chunks while you boil water in a large saucepan.
2. Heat oil, garlic and rosemary on a large baking sheet on the stove top over medium low heat. ( Just heat both burners on one side and lay the baking sheet across it.) Don't allow the garlic to brown.
3. Boil potatoes in water for 1 minute. Transfer potatoes to baking sheet with a slotted spoon. Stir to coat in oil.
4. Roast potatoes in oven on lower rack for 20 minutes. Toss gently with a spatula then roast another 10 minutes or until browned and crispy. Season with sea salt and black pepper.