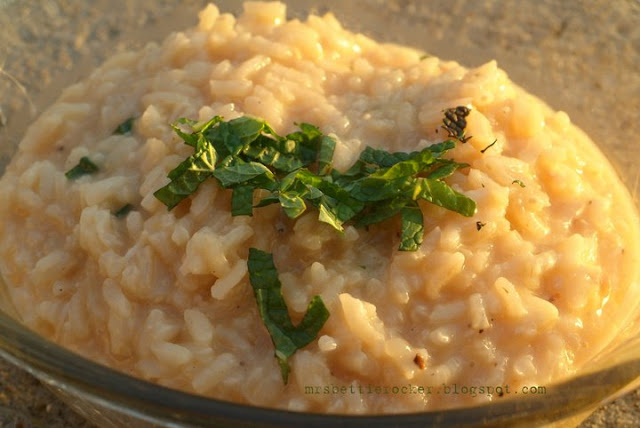 SUPER.YUM.
I love risotto. Do you love risotto? This was my first attempt at making it. It was easier than I thought it would be, it just takes a little time and patience. (Which was difficult at 4pm with the children running amok.) But, I did it! and you should too.
I've also since made a Parmesan risotto I might share with y'all too. But for now, start here....
Ingredients
1 quart chicken stock
2 cups water
1 tablespoon extra-virgin olive oil
1 small to medium onion, chopped
2 cloves garlic, finely chopped or grated
1 cup Arborio rice
2 lemons
1/2 cup white wine
1/2 teaspoon sugar
2 tablespoons butter, cut into small pieces
1/2 cup grated pecorino cheese, a couple of handfuls
(I used fresh grated parmesan instead and it worked out nicely)
2 tablespoons slivered mint leaves
A handful basil tops, shredded or torn
Salt and freshly ground black pepper
Directions
1. In a large pot, heat the stock and 2 cups water over medium low heat.
2. In a risotto pot or large skillet with a rounded bottom, heat the extra-virgin olive oil over medium to medium-high heat. Add the onions and garlic to pan and saute to soften 3 to 4 minutes Stir in the rice and add the zest of 1 lemon.
3. Heat the rice for 1 to 2 minutes, then add the wine and cook until evaporated. Add in the hot stock, a few ladles at a time, and stir for a minute with each addition, to develop the starch and the creamy aspect. Total cooking time will be about 18 minutes or so. Keep adding stock each time the pan starts to become dry at the edges.
4. When rice is cooked to al dente, stir in the butter, lemon sections, juice of 1 lemon, the cheese and herbs. Season with salt and pepper, to taste, and transfer to a serving bowl. Serve immediately.
Via Rachael Ray's
Look & Cook
I'm linking to these rockin' parties:
Making Monday Marvelous at
C.R.A.F.T.
Mad Skills Monday at
Super Stinky Boys
Craft-O-Maniac Monday at
Craft-O-Maniac
Youre So Very Creative at
Me Making Do
Life Made Lovely Monday at
Blessed Little Nest
Made By You Monday at
Skip To My Lou